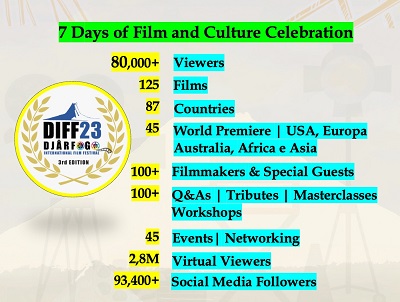 DIFF23 Theme: The RULE OF FILM IN THE NATION BUILDING provides educational opportunities and supports the next generation of filmmakers from Africa.
Film Screening: 125 from 87 countries.
Film in Competition: 25

Awards & Prizes
Feature-film fiction
Short-film fiction
Feature-length documentary
Short-film documentary
Feature-length animation
Short-film animation
Short-film Student
Honorable Mentions Awards
Eight prizes and ten honorable mentions


DIFF23 PROGRAM HIGHLIGHT

The DIFF23 program runs for seven days and includes a welcoming by Cape Verdean authorities, Cultural Animation, Opening Night, Africa Film Lab/Filmmaking Mentorship, Cape Verde Film Market, Africa Fashion Show, a film screenings competition, workshops, and filmmaking classes for Cape Verdean students and filmmakers. We aim to give them a voice and means to express themselves creatively through Film. We offer filmmakers ​opportunities​ ​to​ connect with distributors and investors and provide a free online filmmaking teaching program for students from 1st to 12th grades and Universities.

Since 2021 DIFF has been a public utility event recognized by His Excellency Mr. Prime Minister of Cape Verde, Mr. José Ulisses Correia e Silva. It received several honorable mentions, including former and current Presidents of the Republic of Cape Verde, His Excellency Mr. Commander Pedro Pires, Mr. Jorge Carlos Fonseca, and Jose Maria Neves, Amilcar Cabral Foundation, Olof Palam International Center, Pan African Film & Arts Festival, Fespaco, Pavilion Afrique's Cannes Film Festival, to name a few.

CAPE VERDE FILM MARKET

DIFF23 will continue to provide an opportunity to form co-production through Cape Verde Film Market created to serve Africa, including Diaspora, Cape Verde islands, and C.P.L.P. It aims to provide distribution and co-production opportunities for all, including national, African, and Diaspora filmmakers. The event expects to receive experts from several international film markets, mainly Durban FilmMart, European Film Market, and American Film Market.

THE AFRICA FILM LAB / FILMMAKING MENTORSHIP

DIFF22 founded the Africa Film Lab/Filmmaking Mentorship (A.F.L.F.M.) to honor Rigoberto Lopez's filmmaking legacy. It is a mastery training program created for youth and industry professionals directed and instructed by African and international industry specialists, professors, and film mentors. The program will cover all diverse aspects of the visual storytelling of filmmaking, from development to distribution. It seeks to furnish African and Diaspora filmmakers with classic crafts and wisdom, allowing them to tell and share their stories more effectively.

The classes are both theoretical and practical, and by the end of 2023, up to 150 participants will have had the chance to comprehend and put their crafts into practice on actual film stages. DIFF member advisors will trust these candidates and their films, and they will be screening at the 3rd edition of DIFF and foremost international film festivals worldwide. A.F.L.F.M. will occur in several cities and countries in February and March in Los Angeles, April, and May in Morocco, June in Guinea-Bissau, and Agosto in Cape Verde before the date of DIFF.

DIFF23 OPENING NOVEMBER 6, 2023 – SANTIAGO

DIFF intends to bring over one hundred guests, including filmmakers, producers, experts, students, and film mentors. It encourages local filmmakers, artists, national cultural agents, universities, museums, high and middle schools, and others to be part of the 3rd edition and mobilize the entire archipelago, the African continent, and the Diaspora to embrace and celebrate one week of Cinema in Cape Verde.

The 3rd edition of the DIFF23 opening ceremony will start at 5 pm in Praia, Cape Verde. It follows a unique cultural animation, African Fashion Show, and welcoming to filmmakers and guests by Cape Verdean authorities.

DIFF23 WILL CELEBRATE FOGO CULTURE AND HISTORY
FROM NOVEMBER 8 TO 12

HOMAGE TO AFRICAN AND DIASPORA FILMMAKERS

DIFF23 will pay a special homage to Sarah Maldoror; was a French filmmaker of French West Indies descent. Follow a special screening of her Film Sambizanga on the 1961–1974 war in Angola.

Cuba Cinema will receive special recognition. DIFF23 will screen some films by Cuban filmmaker Gloria Victoria Rolando.

David Massey, a Cape Verdean descendant and Academy of Motion Picture Arts and Sciences member will be honored at the DIFF23. He is the first African American Filmmaker ever Oscar®-Nominated for "Best Live Action Short Film" (for 1992's "Last Breeze of Summer," which he Produced.)

Several local, African, and international filmmakers, including activists, sports figures, and world leaders, will be honored at the 3rd of the DIFF.

DIFF23 designed a program for students focused on short films produced by four film clubs created in DIFF22.

DIFF23 expects to receive more than 1,700 films worldwide and select 125 movies, and only 20 will compete for ten awards.

DIFF23 aims to teach and train over 1500 students from the islands, Diaspora, and the rest of the world. DIFF23 intends to teach 100 workshops, 55 masterclasses, and several free online lectures and record more than 400 hours of footage, double the 200 hours recorded in 2022. It will allow the production of short films celebrating the History and Culture of Fogo, including traditional medicine, coffee, wine, music, dances, and local stories.

DIFF23 aims to reach more than 80,000 viewers locally and more than 2,000,000 viewers from the Diaspora via live streaming, making it one of the most relevant cinema events in the country and entire West Africa.

DIFF23 aims to promote and help to sell an exhibition of local and archipelago visual artists' works.

DIFF will promote academic and cultural exchange experiences by hosting films, filmmakers, students, and professors from Worldwide. We focus on students and professors from Boston Public Schools, Mount Saint Mary's University, Sonja H. Stone Center for Black Culture and History, U.N.C., the University of Santiago, University of Cape Verde, Lusophone University, Atlantic Technical University, and the all-High Schools of Cape Verde.